Our Leagues Enjoy:
7-8 Week Seasons Including Playoffs
Free Beer Parties
Equipment & Facilities Provided
League T-Shirts

Weekly post-game socializing and tomfoolery

Fun & Social Refs, Umpires & Administrators
Connect with us: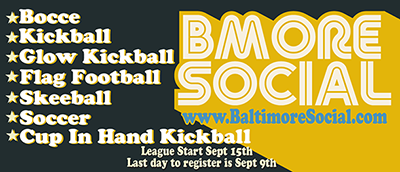 Ever look out the window during a beautiful Fall day and wish you were outside playing and drinking with your friends. Our Leagues are really social at the field and at the bar!

Our Leagues are known for our locations. We pride ourselves on fun, social and organized leagues. Our Shirts, locations and after parties set Bmore Social a part from other leagues.


August 8th: Early Bird Ends (Prices go up)
September 9th (11:59pm) : All Registration Closes
Week of September 16th: All Leagues Play Begins



Team (Create or Join); A Captain must create a team and all the "team members must "join" the team. The Captain can pay for everyone or you can split up the fee's among team members. Team size (5 min 12 max)
Small Group (Join or Create) If you have 2 to 4 people, have one person create a "team" and have everyone else register for the team) You will be merged with another small group once registration is closed!
FREE AGENT! ( We will find a team for everyone once registration is closed!)